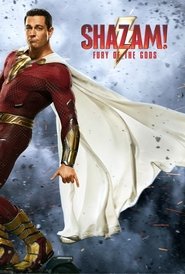 Shazam! Fury of the Gods (2023)
The film continues the story of teenage Billy Batson who, upon reciting the magic word "SHAZAM!" is transformed into his adult Super Hero alter ego, Shazam.
Shazam! Fury of the Gods is an American superhero film based on the DC character Shazam. Produced by New Line Cinema, DC Studios, and the Safran Company, and set for distribution by Warner Bros. Pictures, it is intended to be the sequel to Shazam! (2019) and the twelfth film in the DC Extended Universe (DCEU). It is directed by David F. Sandberg from a screenplay by Henry Gayden and Chris Morgan, and stars Zachary Levi, Asher Angel, Jack Dylan Grazer, Rachel Zegler, Adam Brody, Ross Butler, Meagan Good, Lucy Liu, Djimon Hounsou, and Helen Mirren. In the film, a family of teenage heroes led by Billy Batson / Shazam fight the Daughters of Atlas.
A sequel to Shazam! began development shortly after that film's release in April 2019, with Gayden returning as writer. Sandberg and Levi (Shazam) were also set to return by that December. The title and rest of the returning cast were confirmed in August 2020, including Asher as Billy Batson. Zegler, Mirren, and Liu were cast as the daughters of Atlas in early 2021. Filming began that May in Atlanta, Georgia, and concluded in August.
Shazam! Fury of the Gods is scheduled to be released in the United States on March 17, 2023.